美国Onicon公司D-100 DUALNET流量显示表
D-100 Flow Display with Dual Network Interface
The D-100-DUALNET is a totalizing display module that provides a local indication of liquid, gas or steam flow rate and total data. It is ideally suited for applications where rate and total data is simultaneously required by two networks, such as a campus wide utility monitoring system and a local building automation system. One network interface may be configured for BACnet/IP and/or MODBUS TCP/IP and the other interface for BACnet MS/TP or MODBUS RTU RS485.
The D-100 is housed in a steel wall mounted enclosure with a built-in user interface/display. The standard flow input accepts 4-20 mA, pulse or contact closure flow signals. The versatile D-100 can also function as a network interface for 2 additional analog inputs and
one additional totalizing pulse input.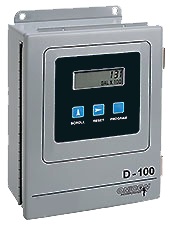 Standard Features:
Works With Virtually Any Flow Meter
The standard flow input of the D-100 accepts active or passive 4 – 20 mA, active or passive pulse and contact closure flow signals.
Serial Communication over Multiple Networks
Optional communications card provides all rate and total data to multiple building control and utility monitoring systems, reducing installation costs.
Supports a Variety of Communications Protocols
The D-100 DUALNET provides BACnet/IP and MODBUS RTU TCP/IP simultaneously along with either BACnet MS/TP or MODBUS RTU RS485.
Suitable for Bi-directional Applications
The D-100 accumulates separate totals for flow in each direction. The totals may be read locally on the display or remotely via an optional network interface.
Simple Installation and Commissioning
The D-100 is factory programmed and ready for use upon delivery. All programming functions are accessible via front panel display and keypad.